FAQ
Are our dogs health tested?
In order to remain true to the promise of breeding excellence we have set about to study the veracity of each test available to us and have asked the hard questions about whether these tests have improved the breed or if the test is consistently objective. We use the expertise of our reproductive veterinarians at Idaho Veterinary Hospital and OFA testing for elbows, eyes and heart as well as PennHIP to evaluate hips. PennHIP is more objective and comprehensive in its methodology and is being considered for any new dogs we bring into the breeding program. Knowing the family health history of our dogs is also an asset in bringing together all of the information that is used when planning a litter. Our dogs are tested for genetic diseases common to Golden Retrievers through Paw Print Genetics which gives us a powerful tool to use in our breeding decisions. Knowing the Coefficient of Inbreeding or COI of our dogs and their offspring is also used to help us strive to breed for the greatest degree of separation in relatedness.
Do you sell puppies or dogs with breeding rights?
No. All of our puppies are sold with AKC Limited Registration to pet homes only.
Are your puppies socialized?
Yes. We spend time with the puppies in play, during grooming and feeding time and we even get to hold them while they sleep. Nothing is sweeter than sitting in the middle of a litter of puppies, some sleeping, some playing, and some coming closer for personal cuddles. They learn to trust and depend on us to meet their needs in preparation for going to their new family.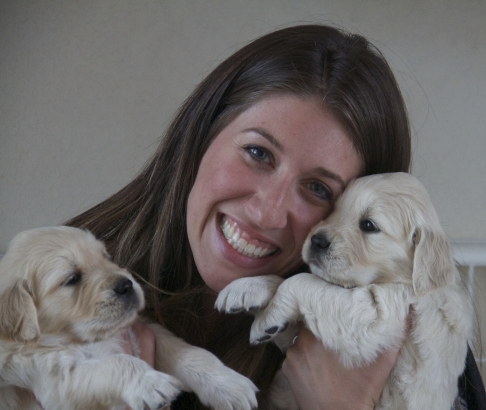 Do I pick my puppy or do you?
It's a joint effort! Many of our puppy families can't come to us to meet the puppies themselves and depend on us to match the best puppy for their needs and lifestyle. Even those who do join us for a visit find that they depend on our input and understanding of our puppies to help guide the process.  When the puppies are seven weeks old we combine our weeks of experience with each pup and some of the principles of the Volhard Puppy Aptitude testing to give us more insight into an understanding of each puppy.  It's at seven weeks of age when the picking process begins, and it's time for you to choose your puppy.  For more on Volhard Puppy Aptitude Testing go here: link
What do I feed my puppy?
We are a proponent of the Species Appropriate Raw Food diet for our dogs and puppies and are very encouraged with the overall health benefits we have seen using this type of feeding program.
Now it is time for you to take your puppy home and one of the biggest questions is, "what have you been feeding the puppies and what should we feed them now that they are at home with us?"
Every family will receive detailed instructions on how to transition their puppy to the food of their choice or get suggestions on how to continue feeding raw.
For those of you who are considering or definitely planning on continuing with a raw diet please let me know and I will assist you along the way.