FAQ
Are our dogs health tested?
In order to remain true to the promise of breeding excellence we have set about to study the veracity of each test available to us and have asked the hard questions about whether these tests have improved the breed or if the test is consistently objective. We use OFA testing for hips, elbows, eyes and heart as well as PennHIP to evaluate hips. PennHIP is more objective and comprehensive in its methodology and is being considered for any new dogs we bring into the breeding program. Knowing the family health history of our dogs is also an asset in bringing together all of the information that is used when planning a litter. Our dogs are tested for genetic diseases common to Golden Retrievers through Paw Print Genetics which gives us a powerful tool to use in our breeding decisions. Knowing the Coefficient of Inbreeding or COI of our dogs and their offspring is also used to help us strive to breed for the greatest degree of separation in relatedness.
Do you sell puppies or dogs with breeding rights?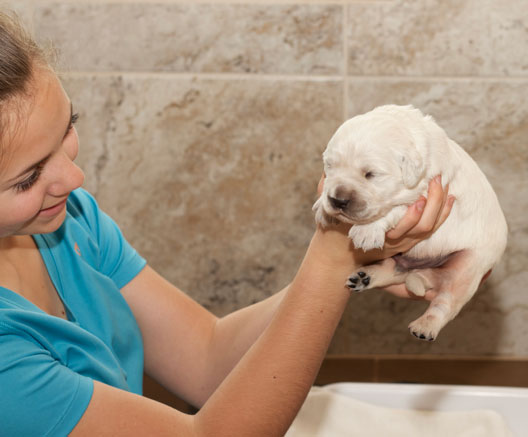 No. All of our puppies are sold with AKC Limited Registration to pet homes only.
Are your puppies socialized?
Yes. We spend time with the puppies in play, during grooming and feeding time and we even get to hold them while they sleep. Nothing is sweeter than sitting in the middle of a litter of puppies, some sleeping and some playing and some coming closer for personal cuddles. They learn to trust us and to depend on us for meeting their needs all in preparation for going to their new family. We utilize the Early Neurological Stimulation exercises from day 3 to day 16 for improved health and exposure to handling by us. For a more in-depth look into ENS go to link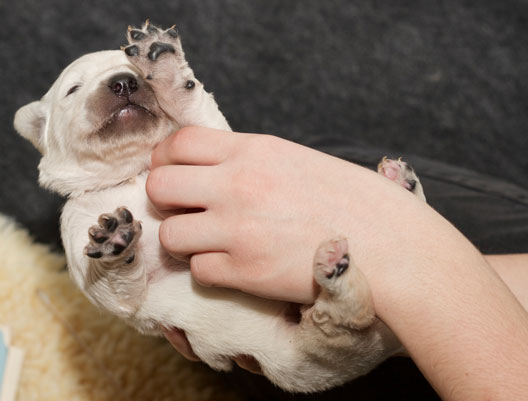 Do I pick my puppy or do you?
It's a joint effort! Many of our puppy families can't come to us to meet the puppies themselves and depend on us to match the best puppy for their needs and lifestyle. Even those who do join us for a visit find that they depend on our input and understanding of our puppies to help guide the process. Although our puppies are very consistent in temperament and are bred to the breed standard as stated on the AKC website, there are subtle and some not so subtle differences between them. We use the Volhard Puppy Aptitude testing done at seven weeks of age to give us more insight into an understanding about each puppy to better match each puppy with the family that they are best suited. For more on Volhard Puppy Aptitude Testing go here: link
What do I feed my puppy?
Council House Goldens has been a proponent of the Species Appropriate Raw Food diet for our dogs and puppies for nearly six years and is very encouraged with the overall health benefits we have seen using this type of feeding program.
Now it is time for you to take your puppy home and one of the biggest questions is, "what have you been feeding the puppies and what should we feed them now that they are at home with us?"
Your puppy has been eating raw ground chicken, ground grass-fed beef and ground grass-fed goat starting at approximately 4 to 5 weeks of age. From 6 weeks of age to the time they leave our home they have continued to nurse and have been eating raw chicken hind quarters cut in about three to four pieces that include the raw chicken bones, raw beef and raw goat meat that is cut in chunks and no longer ground. If you plan on feeding dry kibble, you may want to moisten it a bit until your baby grows accustomed to eating it dry. A family of ours said that their vet recommends adding water to dry kibble for the rest of the dogs' life. The reason has to do with the nature of their natural raw diet that has very high water content. This vet says that when your dog consumes dry food the stress on the internal organs to pull enough moisture into the stomach to digest the food is immense and eventually will take its toll in the overall health of the internal organs. No amount of water following a dry meal will be enough to compensate for the stress so adding the water to the kibble may be something to consider.
For those of you who are considering or definitely planning on continuing with a raw diet please let me know and I will assist you along the way.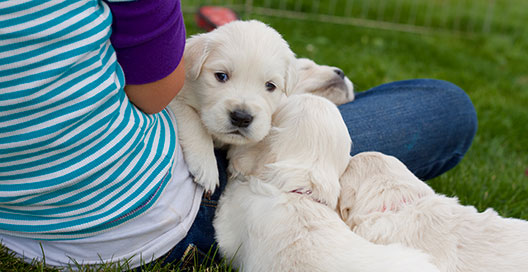 I am available to answer questions and talk with you about what we have done as well as help you connect with groups and individuals on Facebook that raw feed and share the magazines, books, and articles that have helped shape how we approach feeding raw. One of the best resources I've found for understanding and implementing raw feeding comes from Dogs Naturally Magazine, and if you subscribe and add the Dogs Naturally Magazine Academy (DNMacademy) to your subscription, you will find a wealth of video tutorials on raw feeding as well as many other topics that might interest you. Go to Dogs Naturally Magazine here: link
For those of you who prefer not to feed a raw diet, my suggestion is to allow your puppy to transition slowly over a period of two weeks to avoid digestive upsets. For the first few days, it might be best to feed as we have. Plan on feeding about 2 to 3 pounds of raw, bone-in chicken drumsticks, thighs or ground beef mixed with a small amount of pumpkin or squash divided into three meals a day.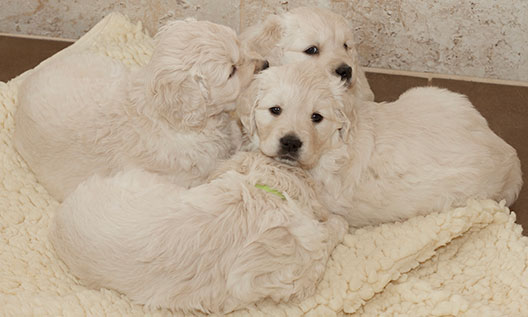 The chicken should not be skinned and cutting into small bitesize pieces isn't necessary. On day three or four replace one meal a day with the moistened kibble or canned food of your choice. Feed this way for three to four days then offer the food of your choice for two meals a day and so forth until you have completely replaced your puppy's diet. If you notice changes in the stools, I would recommend transitioning more slowly.
It is difficult for me to make food recommendations because I lack any real experience in using them. However, some of my families have liked some of the following:
National link
Blue Buffalo
Earthborn Holistic Natural
Darwin's Raw Dog Food
Orijen
Natural Balance