Puppy Promise
So that we may remain faithful to the promise of breeding excellence, we have set about to study the integrity of each test available to us and have asked the hard questions about whether these tests have improved the breed or if they are consistently objective. We use OFA testing for hips, elbows, eyes, and heart as well as PennHIP to evaluate hips. PennHIP is accurate and comprehensive in its methodology and will be used for any new dogs we bring into the breeding program. Knowing the family health history of our dogs is also an asset in bringing together all of the information that is used when planning a litter. Our dogs are tested for genetic diseases common to Golden Retrievers through Paw Print Genetics which gives us a powerful tool to use in our breeding decisions.
It is clear that environment has a very tangible influence on hip and elbow dysplasia and because of this truth we work diligently to partner with our puppy families to pass on vital studies and reports that can help us work together for the health of your dog.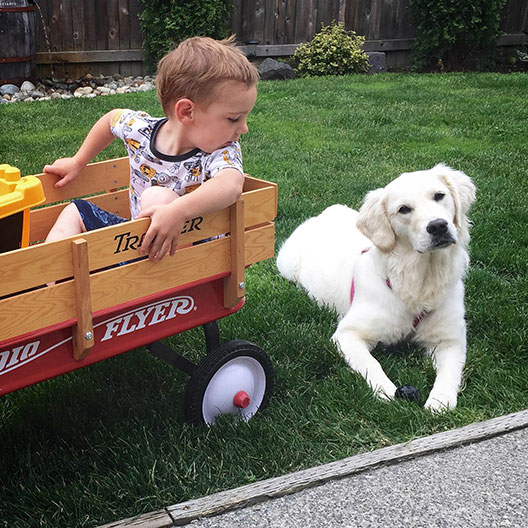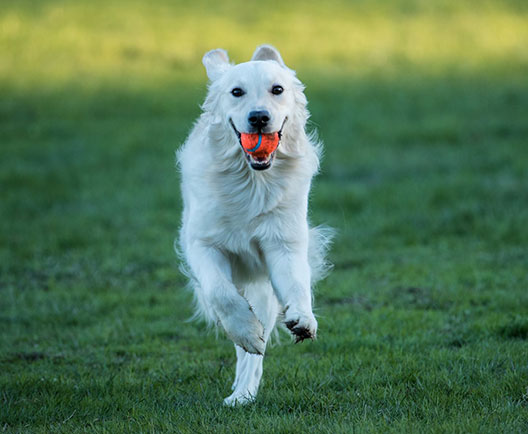 How we feed our dogs, what medications they are taking and the chemicals they come in contact with on our lawns is but a small piece of a much bigger puzzle that we return to frequently in the hope of finding those that are missing. We will continually strive to find and implement the most up to date and proven information about healthcare for our dogs in order that we might do all in our power to improve the breed. Your puppy is guaranteed to be in good health at the time of adoption. If it is determined by a veterinarian that your puppy is unhealthy your puppy can be returned for a replacement after we are provided with a letter of verification from your veterinarian. This guarantee applies to communicable diseases for one week from the date of purchase and congenital defects for twelve months from the date of purchase. The puppy must be returned in the same condition as it was at the time of adoption. We reserve the right to refund the purchase price of a puppy while the puppy/dog remains in the home of the buyer in the event of a congenital defect. 
This guarantee does not include any costs associated with spaying and neutering of your puppy including that of undescended testicles. We are committed to your transition with your puppy, especially during the early weeks. Please contact us about any health issues that arise. Early and quick identification of concerns can oftentimes identify problems before they become serious for your puppy. We want to hear from you so please do not hesitate to call us at 208-253-1145.